pROVIDING YOU PEACE OF MIND
Get Clean Services utilizes the industry's best practices and established methods of professional cleaning and augments them with cutting-edge innovations to exceed today's hygiene standards forged by the health crisis. Championing a data-driven approach to janitorial services, Get Clean Services provides your business with an elevated, measurable method of cleaning with a focus on thorough disinfection and sanitization to keep businesses safe for your employees and open for your customers.

We understand that safety is everyone's top priority during this time, and our goal is to achieve, maintain, and sustain an environment that gives everyone—employees, customers, and communities alike—peace of mind. We partner with your business to develop a written scope of work and mitigation plan that increases critical cleaning frequency and provides measurable results.

Janitorial companies are at the forefront of the health crisis and proper cleaning, sanitization, and disinfection is more crucial than ever. Let us use our 100+ years of combined leadership expertise to help you navigate these unprecedented times.
STAY SAFE, STAY OPEN, GET CLEAN.
We understand the primary goal of any business is to be able to keep their doors open safely. Get Clean Services is here to become a part of your team and provide the expertise and guidance needed to help you navigate this health crisis and make sure your facility is compliant with the disinfection and safety guidelines provided by the CDC, OSHA, and Federal and State governing bodies. Our goal is to help you stay safe, stay open, and get clean.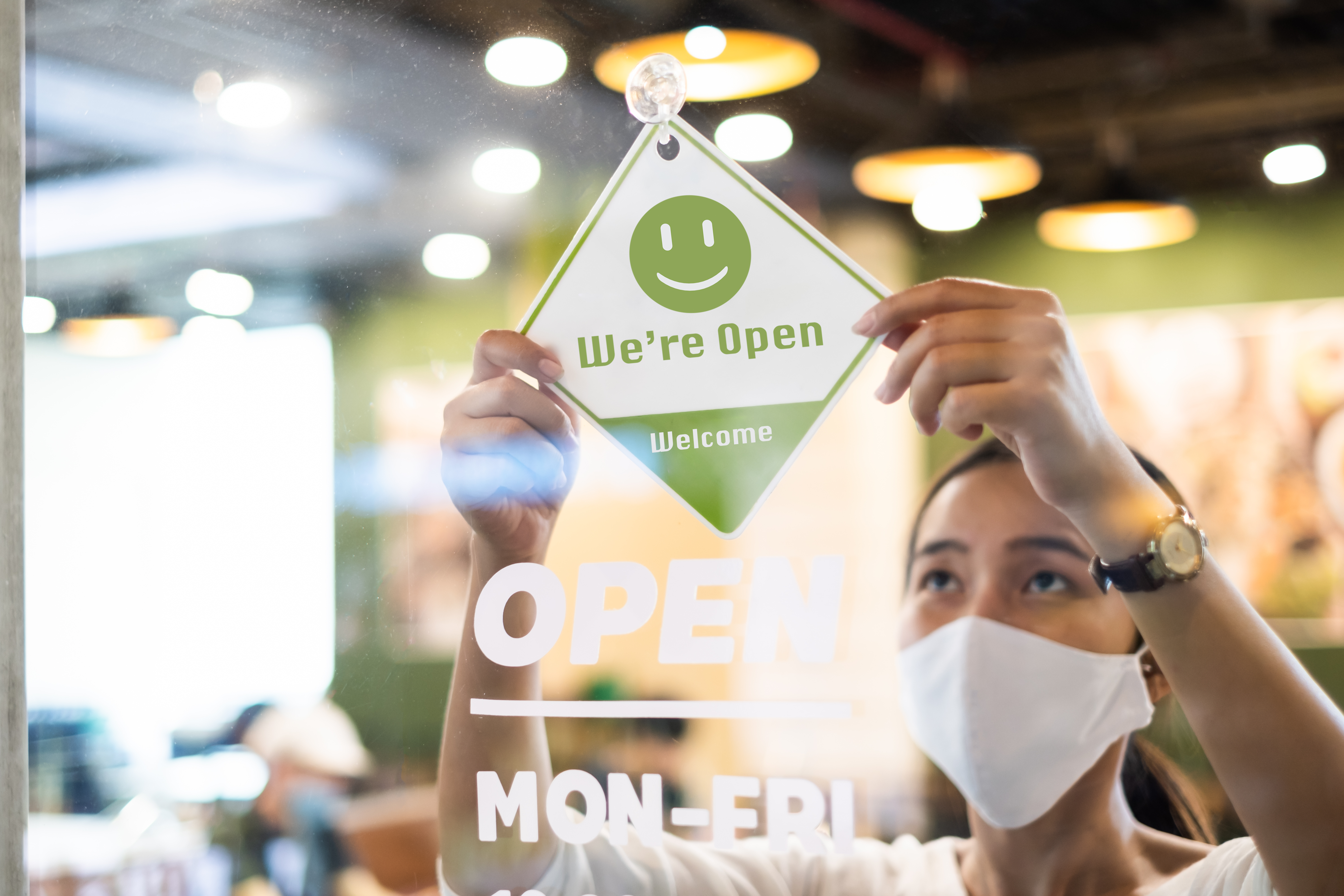 PLANNING FOR TOMORROW—GUIDING YOU START TO FINISH THROUGH COVID-19
1. Evaluate & Educate
We serve our clients as an all-purpose resource for janitorial service, facility maintenance, and COVID related guidance on how to maintain a safe and compliant facility. Most importantly, we become a part of your team. Right away our experts work with your team to conduct a deep-dive site assessment to develop a tailored cleaning plan that tackles the problems your business is facing. Augmenting traditional scopes of work to prioritize focus on touchpoints and high-contact areas is baseline in our response as consistent and thorough disinfection procedures are key in reducing the potential of disease transmission. We also take the wheel in navigating COVID-19 guidelines specific to your state's regulations to ensure that compliance is maintained.
2. Enhanced cleaning & Disinfection
Depending on your facility, contamination of frequently used areas can happen at any time throughout the day as customers and staff come in and out of the building. Utilizing EPA and CDC approved chemicals and disinfectants our teams work with you to establish higher frequencies of regular cleaning and disinfection to mitigate exposures and contamination. Adoption of deep clean practices into everyday procedures is vital in achieving a higher quality of clean for touchpoints and high-use areas throughout your facility. We partner with industry leading chemical manufacturers and technology developers to provide best-in-class solutions to mitigate COVID-19 and other dangerous pathogens that threaten your facility.
3. COVID response & remediation
Our emergency cleaning response personnel have all received in-depth training in the areas of disinfecting and sanitization procedures, hazardous communications, respiratory protection plans, infection prevention, and proper PPE usage. COVID-19 response teams are dispatched immediately in the event of a potential exposure at a facility to perform deep cleaning disinfection on all accessible surfaces throughout the building. Electrostatic spraying, intermittent fogging, and robotic cleaning solutions are all supplementary cleaning methods used to enhance our response if necessary for your facility.
4. Longevity Planning & Implementation
Once a clean environment is achieved, we prioritize implementing actionable steps and protocols to maintain the safety of your facility moving forward. Our ultimate goal is to help you sustain these solutions in the long run and mitigate any issues that fall within our realm of expertise. To do so, we aim to make cleanliness and safety a part of your long term business plan that becomes a part of your workforce's culture. We aim to assist beyond COVID response, becoming your partner in creating long term solutions for the problems you're facing now—helping you stay clean today to stay safe tomorrow.
LET OUR TEAM HANDLE IT
We understand the stresses that come with navigating the pandemic and we are here to help. Achieving a clean facility is not just about optics but is a matter of public safety which can weigh heavy on businesses. We are janitorial professionals whose purpose has always been to protect the public from harmful bacteria and viral agents like COVID-19. Trust Get Clean Services to become your partner and help protect your facility so that you can get back to business.
Business owners should consider prioritizing measures in the interest of safety for their staff, their customers, and their community. While each facility has its own nuances that call for different approaches, most businesses can safely include the following into their protocols:
Evaluate options to increase physical space between all persons in a facility. These can include partitions, floor markers, and rearranging furnishings to guide customers on one-way routes. Encourage adherence to the CDC guidelines on

social distancing.

Provide CDC approved masks for all employees. Consider encouraging them to follow mask guidelines and protocols as proposed by federal and state governments, and CDC guidelines. Nylon masks have not been shown to provide significant protection, therefore the CDC recommends wearing a surgical grade mask below a nylon mask to increase the level of protection.

Install clearly marked hand-sanitization stations throughout the facility for use by employees and customers. Be sure to assign staff to disinfect these stations and their equipment at least twice a day.

Create a daily cleaning schedule with staff to ensure that all high-touch points such as doorknobs, drinking apparatuses, cash registers, etc, are disinfected at the start and end of the workday. Increased cleaning frequency is key in preventing illness.
Additional guidance is available in the Center for Disease Control and Prevention general business FAQ.
Cleaning, sanitization, and disinfection must all occur throughout the day to maintain safety for a facility. COVID-19 cannot be fully prevented but preparing a facility with procedures and protocols that cultivate a clean environment are the best deployable defense. Understanding the differences between these procedures is as important as implementing protocols to administer them.
Cleaning is the physical removal of soil, debris, residues, and other physical contaminants from a surface. Cleaning is the fundamental first step of the process that must be followed to maintain a healthy and safe environment. Cleaning cannot be skipped and must be well executed in order for disinfectants and sanitizers to be effective.
Sanitization is the process of using a sanitizer—a substance or mixture of substances that reduces the bacterial population—on hard surfaces. Sanitizer does not eliminate all bacteria on the surface.
Disinfection is the process of using a disinfectant—a substance or mixture that destroys or irreversibly inactivates bacteria, fungi, and viruses— on a targeted surface. To ensure the chemical successfully breaks down the exterior of the COVID-19 capsule, full efficacy must be achieved through proper dwell time application. Dwell time is vital in ensuring that the disinfectant carries out its purpose—eliminating bacterial and viral agents. Disinfectants typically demonstrate a reduction of more than 99.9% of harmful microorganisms within 10 minutes.
We recommend that all custodial staff should be equipped with personal protective equipment (PPE) such as commercial grade disposal gloves and gowns. Masks should always be worn when working with chemicals and disinfectants, but please note that cloth and nylon masks are not significant enough in protection for standard cleaning operations. Surgical grade masks are encouraged for professional cleaners.
Additional guidance on PPE is available in the Center for Diseases Control website.
Generally, a touchpoint is defined as a surface frequently accessed by people and vary between facility and business types. Touchpoints can often be breakroom door handles, assembly line stations, water coolers, vending machines, computer equipment, and common serving utensils.
Touchpoints are crucial in shared spaces within a facility, typically including bathrooms, conference rooms, shared employee workspaces, and more. These spaces will each contain their own specific touchpoints that should be assigned to frequent cleaning and disinfection throughout the day to reduce potential for disease transmission.
See our guide on identifying common facility touchpoints here.
All chemicals sourced by our team are certified by the CDC as an approved disinfectant for Coronavirus (COVID-19). The EPA products on List N have been certified to kill the coronavirus SARS-CoV-2 (COVID-19) with up to 99.9% effectiveness when used according to the label directions. Please ensure that products are ONLY used on surfaces.
To find a product, locate the EPA Reg. No. on the product label, then enter the first two sets of numbers into this tool provided by the CDC. For example, if EPA Reg. No. 12345-12 is on List N, you can buy EPA Reg. No. 12345-12-2567 and know you are getting an equivalent product.
We are happy to provide consultation alongside our manufacturing partners on what products to use for coronavirus and other disinfectant purposes.
Global healthcare experts and virologists agree that airborne, aerosol transmission of viruses poses a significant threat and have found that COVID-19 can travel up to 13 feet in the air. HVAC experts and the CDC both recommend that businesses consider ventilation system upgrades or improvements and other steps to increase the delivery of clean air and dilute potential contaminants. Additionally, the CDC specifically notes that businesses should consider using high efficiency particulate air (HEPA) fans and filtration systems to help enhance air cleaning in higher risk areas as HVAC alone does not necessarily clean the air being recirculated.
We partner with technology and equipment experts that help provide us professional insights on changes to HVAC systems and equipment to help guide our clients.
STAY INFORMED — RESOURCES FOR COVID-19